Home >> Alpines & Plants >> Mertensia >> Mertensia virginica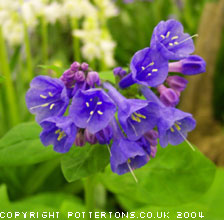 UK - dispatched all year round.
A unique woodland plant with rich blue flowers in March to April on stems up to 30cm, dormant from summer onwards. Needs a neutral to acid, moisture retentive soil in light shade. Very hardy. Recently potted divisions just coming into growth.